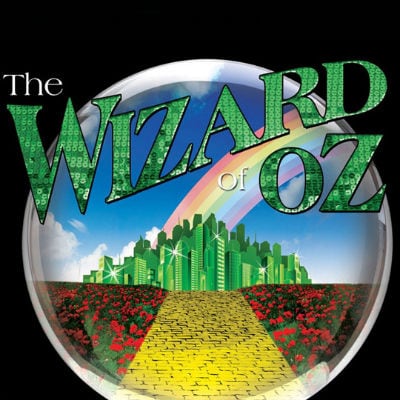 The Wizard of Oz
full album
The Wizard of Oz is a classic piece of American theater and film, recounting the tale of a young girls adventures through the mysterious and magical land of Oz as she tries to return home to Kansas. This album features 36 tracks. Tracks 1-18 contain the background tracks and guide vocals; tracks 19-36 contain the accompaniment tracks alone. This album is a re-recording in the original show key and show tempo.
Full Album
$29.95 or License for Theater ($500)
Songs Included
Note: Theater license is for the songs included below. No additional tracks are provided.
Track previews contain a watermark every few seconds. Purchased files do not contain any watermarking.


1. Somewhere Over the Rainbow
guide vocal track from The Wizard of Oz
---
2. Munchkin Musical Sequence (Munchkinland)
guide vocal track from The Wizard of Oz
---
3. Follow The Yellow Brick Road
guide vocal track from The Wizard of Oz
---
4. If I Only Had a Brain
guide vocal track from The Wizard of Oz
---
5. If I Only Had a Heart
guide vocal track from The Wizard of Oz
---
6. If I Only Had the Nerve / We're Off to See the Wizard
guide vocal track from The Wizard of Oz
---
7. Poppies / Act One Finale
guide vocal track from The Wizard of Oz
---
8. Entr'acte / The Merry Old Land Of Oz
guide vocal track from The Wizard of Oz
---
9. If I Were King of the Forest
guide vocal track from The Wizard of Oz
---
10. The Jitterbug
guide vocal track from The Wizard of Oz
---
11. Winkies March / Somewhere Over the Rainbow (Reprise)
guide vocal track from The Wizard of Oz
---
12. Ding Dong, The Witch Is Dead
guide vocal track from The Wizard of Oz
---
13. Somewhere Over the Rainbow
accompaniment track from The Wizard of Oz
---
14. Munchkin Musical Sequence (Munchkinland)
accompaniment track from The Wizard of Oz
---
15. Follow The Yellow Brick Road
accompaniment track from The Wizard of Oz
---
16. If I Only Had a Brain
accompaniment track from The Wizard of Oz
---
17. If I Only Had a Heart
accompaniment track from The Wizard of Oz
---
18. If I Only Had the Nerve / We're Off to See the Wizard
accompaniment track from The Wizard of Oz
---
19. Poppies / Act One Finale
accompaniment track from The Wizard of Oz
---
20. Entr'acte / The Merry Old Land Of Oz
accompaniment track from The Wizard of Oz
---
21. If I Were King of the Forest
accompaniment track from The Wizard of Oz
---
22. The Jitterbug
accompaniment track from The Wizard of Oz
---
23. Winkies March / Somewhere Over the Rainbow (Reprise)
accompaniment track from The Wizard of Oz
---
24. Ding Dong, The Witch Is Dead
accompaniment track from The Wizard of Oz
---