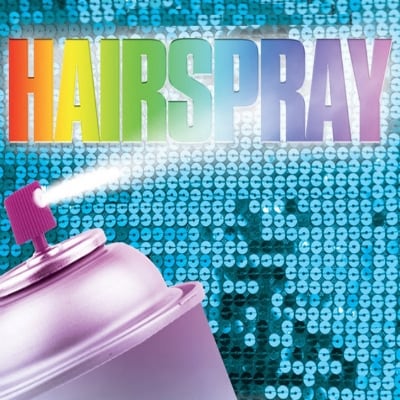 Hairspray
full album
Featuring 60s style dance music and downtown rhythm and blues by Marc Shaiman, Hairspray captures the overnight success of a plump Baltimore teenager, and is a social commentary on civil rights and social injustices in 1960s American society. This album features 36 tracks. Tracks 1-18 contain the background tracks and guide vocals; tracks 19-36 contain the accompaniment tracks alone. This album is a re-recording in the original show key and show tempo.
Full Album
$29.95 or License for Theater ($600)
Songs Included
Note: Theater license is for the songs included below. No additional tracks are provided.
Track previews contain a watermark every few seconds. Purchased files do not contain any watermarking.


1. Good Morning Baltimore
guide vocal track from Hairspray
---
2. The Nicest Kids in Town
guide vocal track from Hairspray
---
3. Mama, I'm a Big Girl Now
guide vocal track from Hairspray
---
4. I Can Hear the Bells
guide vocal track from Hairspray
---
5. (The Legend of) Miss Baltimore Crabs
guide vocal track from Hairspray
---
6. It Takes Two
guide vocal track from Hairspray
---
7. Welcome to the 60's
guide vocal track from Hairspray
---
8. Run and Tell That!
guide vocal track from Hairspray
---
9. Big, Blonde and Beautiful
guide vocal track from Hairspray
---
10. The Big Dollhouse
guide vocal track from Hairspray
---
11. Good Morning Baltimore (reprise)
guide vocal track from Hairspray
---
12. (You're) Timeless to Me
guide vocal track from Hairspray
---
13. (You're) Timeless to Me (reprise)
guide vocal track from Hairspray
---
14. Without Love
guide vocal track from Hairspray
---
15. I Know Where I've Been
guide vocal track from Hairspray
---
16. (It's) Hairspray
guide vocal track from Hairspray
---
17. Cooties
guide vocal track from Hairspray
---
18. You Can't Stop the Beat
guide vocal track from Hairspray
---
19. Good Morning Baltimore
accompaniment track from Hairspray
---
20. The Nicest Kids in Town
accompaniment track from Hairspray
---
21. Mama, I'm a Big Girl Now
accompaniment track from Hairspray
---
22. I Can Hear the Bells
accompaniment track from Hairspray
---
23. (The Legend of) Miss Baltimore Crabs
accompaniment track from Hairspray
---
24. It Takes Two
accompaniment track from Hairspray
---
25. Welcome to the 60's
accompaniment track from Hairspray
---
26. Run and Tell That!
accompaniment track from Hairspray
---
27. Big, Blonde and Beautiful
accompaniment track from Hairspray
---
28. The Big Dollhouse
accompaniment track from Hairspray
---
29. Good Morning Baltimore (reprise)
accompaniment track from Hairspray
---
30. (You're) Timeless to Me
accompaniment track from Hairspray
---
31. (You're) Timeless to Me (reprise)
accompaniment track from Hairspray
---
32. Without Love
accompaniment track from Hairspray
---
33. I Know Where I've Been
accompaniment track from Hairspray
---
34. (It's) Hairspray
accompaniment track from Hairspray
---
35. Cooties
accompaniment track from Hairspray
---
36. You Can't Stop the Beat
accompaniment track from Hairspray
---