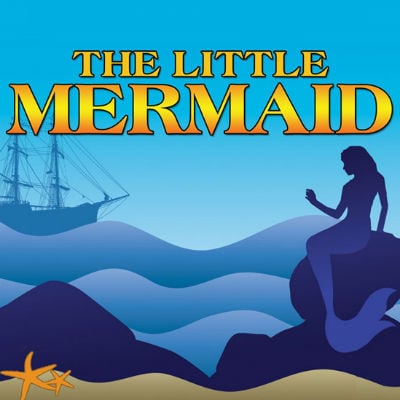 The Little Mermaid
full album
Disneys The Little Mermaid is the story of a mermaid who longs to become human. The Broadway musical features well-known music from the animated movie by Alan Menken and lyricist Howard Ashman, as well as new compositions by Menken with lyrics by Glenn Slater, which will give new enjoyment to fans of the movie. There are 38 tracks on this album: Tracks 1-19 contain the background tracks and guide vocals; tracks 20-38 contain the accompaniment tracks alone. This album is a re-recording in the original show key and show tempo.
Full Album
$29.95 or License for Theater ($600)
Songs Included
Note: Theater license is for the songs included below. No additional tracks are provided.
Track previews contain a watermark every few seconds. Purchased files do not contain any watermarking.


1. Fathoms Below
guide vocal track from The Little Mermaid
---
2. Daughters of Triton
guide vocal track from The Little Mermaid
---
3. The World Above
guide vocal track from The Little Mermaid
---
4. Human Stuff
guide vocal track from The Little Mermaid
---
5. I Want the Good Times Back
guide vocal track from The Little Mermaid
---
6. Part of Your World
guide vocal track from The Little Mermaid
---
7. She's in Love
guide vocal track from The Little Mermaid
---
8. Her Voice
guide vocal track from The Little Mermaid
---
9. The World Above (reprise)
guide vocal track from The Little Mermaid
---
10. Under the Sea
guide vocal track from The Little Mermaid
---
11. Sweet Child
guide vocal track from The Little Mermaid
---
12. Poor Unfortunate Souls
guide vocal track from The Little Mermaid
---
13. Positoovity
guide vocal track from The Little Mermaid
---
14. Beyond my Wildest Dreams
guide vocal track from The Little Mermaid
---
15. Les Poissons
guide vocal track from The Little Mermaid
---
16. One Step Closer
guide vocal track from The Little Mermaid
---
17. Kiss the Girl
guide vocal track from The Little Mermaid
---
18. If Only
guide vocal track from The Little Mermaid
---
19. The Contest
guide vocal track from The Little Mermaid
---
20. Fathoms Below
accompaniment track from The Little Mermaid
---
21. Daughters of Triton
accompaniment track from The Little Mermaid
---
22. The World Above
accompaniment track from The Little Mermaid
---
23. Human Stuff
accompaniment track from The Little Mermaid
---
24. I Want the Good Times Back
accompaniment track from The Little Mermaid
---
25. Part of Your World
accompaniment track from The Little Mermaid
---
26. She's in Love
accompaniment track from The Little Mermaid
---
27. Her Voice
accompaniment track from The Little Mermaid
---
28. The World Above (reprise)
accompaniment track from The Little Mermaid
---
29. Under the Sea
accompaniment track from The Little Mermaid
---
30. Sweet Child
accompaniment track from The Little Mermaid
---
31. Poor Unfortunate Souls
accompaniment track from The Little Mermaid
---
32. Positoovity
accompaniment track from The Little Mermaid
---
33. Beyond my Wildest Dreams
accompaniment track from The Little Mermaid
---
34. Les Poissons
accompaniment track from The Little Mermaid
---
35. One Step Closer
accompaniment track from The Little Mermaid
---
36. Kiss the Girl
accompaniment track from The Little Mermaid
---
37. If Only
accompaniment track from The Little Mermaid
---
38. The Contest
accompaniment track from The Little Mermaid
---