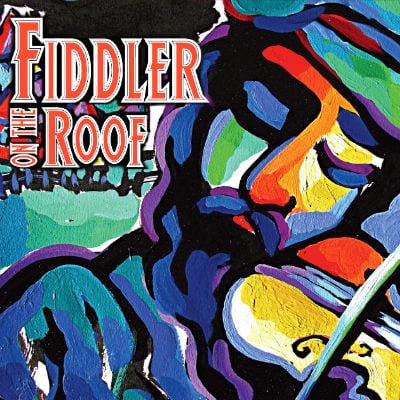 Fiddler On The Roof
full album
Fiddler on the Roof is a classic musical masterpiece that tells of a Jewish familys struggle with tradition and upheaval. This album features 32 tracks. Tracks 1-16 contain the background tracks and guide vocals; tracks 17-32 contain the accompaniment tracks alone. This album is a newly orchestrated, original klezmer version that stays true to the original Broadway keys and tempos.
Full Album
$29.95 or License for Theater ($600)
Songs Included
Note: Theater license is for the songs included below. No additional tracks are provided.
Track previews contain a watermark every few seconds. Purchased files do not contain any watermarking.


1. Tradition
guide vocal track from Fiddler On The Roof
---
2. Matchmaker
guide vocal track from Fiddler On The Roof
---
3. If I Were A Rich Man
guide vocal track from Fiddler On The Roof
---
4. Sabbath Prayer
guide vocal track from Fiddler On The Roof
---
5. To Life
guide vocal track from Fiddler On The Roof
---
6. Tevye's Monologue
guide vocal track from Fiddler On The Roof
---
7. Miracle of Miracles
guide vocal track from Fiddler On The Roof
---
8. Tevye's Dream
guide vocal track from Fiddler On The Roof
---
9. Sunrise, Sunset
guide vocal track from Fiddler On The Roof
---
10. Now I Have Everything
guide vocal track from Fiddler On The Roof
---
11. Tevye's Rebuttal
guide vocal track from Fiddler On The Roof
---
12. Do You Love Me?
guide vocal track from Fiddler On The Roof
---
13. The Rumor / Gossip
guide vocal track from Fiddler On The Roof
---
14. Far From the Home I Love
guide vocal track from Fiddler On The Roof
---
15. Chava Ballet Sequence
guide vocal track from Fiddler On The Roof
---
16. Anatevka
guide vocal track from Fiddler On The Roof
---
17. Tradition
accompaniment track from Fiddler On The Roof
---
18. Matchmaker
accompaniment track from Fiddler On The Roof
---
19. If I Were A Rich Man
accompaniment track from Fiddler On The Roof
---
20. Sabbath Prayer
accompaniment track from Fiddler On The Roof
---
21. To Life
accompaniment track from Fiddler On The Roof
---
22. Tevye's Monologue
accompaniment track from Fiddler On The Roof
---
23. Miracle of Miracles
accompaniment track from Fiddler On The Roof
---
24. Tevye's Dream
accompaniment track from Fiddler On The Roof
---
25. Sunrise, Sunset
accompaniment track from Fiddler On The Roof
---
26. Now I Have Everything
accompaniment track from Fiddler On The Roof
---
27. Tevye's Rebuttal
accompaniment track from Fiddler On The Roof
---
28. Do You Love Me?
accompaniment track from Fiddler On The Roof
---
29. The Rumor / Gossip
accompaniment track from Fiddler On The Roof
---
30. Far From the Home I Love
accompaniment track from Fiddler On The Roof
---
31. Chava Ballet Sequence
accompaniment track from Fiddler On The Roof
---
32. Anatevka
accompaniment track from Fiddler On The Roof
---