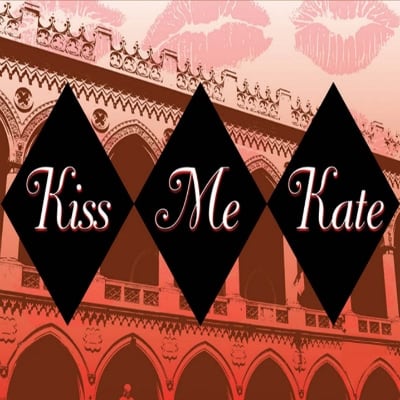 Kiss Me Kate
full album
With music and lyrics by Cole Porter, Kiss Me Kate presents a humurous twist on Shakespeares Taming of the Shrew, recounting the behind-the-scenes romances of actors staging a musical version of the play. Kiss Me Kate also won Best Musical Revival in 2000. There are 42 tracks on this album: Tracks 1-21 contain the background tracks and guide vocals; tracks 22-42 contain the accompaniment tracks alone. This album is a re-recording in the original show key and show tempo.
Full Album
$29.95 or License for Theater ($600)
Songs Included
Note: Theater license is for the songs included below. No additional tracks are provided.
Track previews contain a watermark every few seconds. Purchased files do not contain any watermarking.


1. Another Ope'nin' Another Show
guide vocal track from Kiss Me Kate
---
2. Why Can't You Behave
guide vocal track from Kiss Me Kate
---
3. Wunderbar
guide vocal track from Kiss Me Kate
---
4. So In Love
guide vocal track from Kiss Me Kate
---
5. We Open In Venice
guide vocal track from Kiss Me Kate
---
6. Tom, Dick, or Harry
guide vocal track from Kiss Me Kate
---
7. I've Come to Wive It Wealthily in Padua
guide vocal track from Kiss Me Kate
---
8. I Hate Men
guide vocal track from Kiss Me Kate
---
9. Were Thine That Special Face
guide vocal track from Kiss Me Kate
---
10. Finale Act One
guide vocal track from Kiss Me Kate
---
11. Too Darn Hot
guide vocal track from Kiss Me Kate
---
12. Where is the Life That I Led
guide vocal track from Kiss Me Kate
---
13. Always True to You (In My Fashion)
guide vocal track from Kiss Me Kate
---
14. Always True to You (Reprise)
guide vocal track from Kiss Me Kate
---
15. Bianca
guide vocal track from Kiss Me Kate
---
16. So In Love (Reprise)
guide vocal track from Kiss Me Kate
---
17. Brush Up Your Shakespeare
guide vocal track from Kiss Me Kate
---
18. First Encore: Brush Up Your Shakespeare
guide vocal track from Kiss Me Kate
---
19. Second Encore: Brush Up Your Shakespeare
guide vocal track from Kiss Me Kate
---
20. I Am Ashamed That Women Are So Simple
guide vocal track from Kiss Me Kate
---
21. Finale Act Two
guide vocal track from Kiss Me Kate
---
22. Another Ope'nin' Another Show
accompaniment track from Kiss Me Kate
---
23. Why Can't You Behave
accompaniment track from Kiss Me Kate
---
24. Wunderbar
accompaniment track from Kiss Me Kate
---
25. So In Love
accompaniment track from Kiss Me Kate
---
26. We Open In Venice
accompaniment track from Kiss Me Kate
---
27. Tom, Dick, or Harry
accompaniment track from Kiss Me Kate
---
28. I've Come to Wive It Wealthily in Padua
accompaniment track from Kiss Me Kate
---
29. I Hate Men
accompaniment track from Kiss Me Kate
---
30. Were Thine That Special Face
accompaniment track from Kiss Me Kate
---
31. Finale Act One
accompaniment track from Kiss Me Kate
---
32. Too Darn Hot
accompaniment track from Kiss Me Kate
---
33. Where is the Life That I Led
accompaniment track from Kiss Me Kate
---
34. Always True to You (In My Fashion)
accompaniment track from Kiss Me Kate
---
35. Always True to You (Reprise)
accompaniment track from Kiss Me Kate
---
36. Bianca
accompaniment track from Kiss Me Kate
---
37. So In Love (Reprise)
accompaniment track from Kiss Me Kate
---
38. Brush Up Your Shakespeare
accompaniment track from Kiss Me Kate
---
39. First Encore: Brush Up Your Shakespeare
accompaniment track from Kiss Me Kate
---
40. Second Encore: Brush Up Your Shakespeare
accompaniment track from Kiss Me Kate
---
41. I Am Ashamed That Women Are So Simple
accompaniment track from Kiss Me Kate
---
42. Finale Act Two
accompaniment track from Kiss Me Kate
---