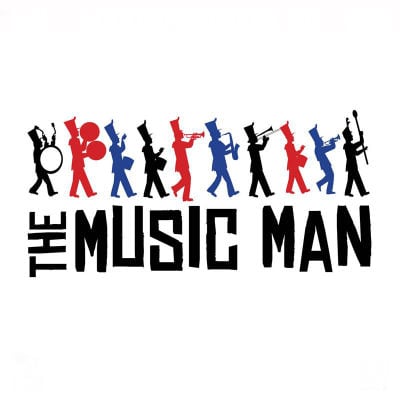 The Music Man
full album
Featuring music and book by Meredith Willson, The Music Man is a classic musical about a con man posing as a music teacher and a librarian who fall in love in a small town in Iowa. This album features 34 tracks. Tracks 1-16 contain the accompaniment tracks alone; tracks 17-34 contain the guide vocal tracks, along with two bonus vocal tracks. This album is a re-recording in the original show key and show tempo.
Full Album
$29.95 or License for Theater ($600)
Songs Included
Note: Theater license is for the songs included below. No additional tracks are provided.
Track previews contain a watermark every few seconds. Purchased files do not contain any watermarking.


1. Rock Island
accompaniment track from The Music Man
---
2. Iowa Stubborn
accompaniment track from The Music Man
---
3. Ya Got Trouble
accompaniment track from The Music Man
---
4. Piano Lesson / If You Don't Mind My Saying So
accompaniment track from The Music Man
---
5. Goodnight, My Someone
accompaniment track from The Music Man
---
6. Seventy-Six Trombones
accompaniment track from The Music Man
---
7. The Sadder But Wiser Girl
accompaniment track from The Music Man
---
8. Pick a Little, Talk a Little / Goodnight Ladies
accompaniment track from The Music Man
---
9. Marian the Librarian
accompaniment track from The Music Man
---
10. My White Knight
accompaniment track from The Music Man
---
11. The Wells Fargo Wagon
accompaniment track from The Music Man
---
12. Shipoopi
accompaniment track from The Music Man
---
13. Lida Rose / Will I Ever Tell You
accompaniment track from The Music Man
---
14. Gary, Indiana
accompaniment track from The Music Man
---
15. Till There Was You
accompaniment track from The Music Man
---
16. Goodnight, My Someone and Seventy-Six Trombones (Reprise)
accompaniment track from The Music Man
---
17. Rock Island
guide vocal track from The Music Man
---
18. Iowa Stubborn
guide vocal track from The Music Man
---
19. Ya Got Trouble
guide vocal track from The Music Man
---
20. Piano Lesson / If You Don't Mind My Saying So
guide vocal track from The Music Man
---
21. Goodnight, My Someone
guide vocal track from The Music Man
---
22. Seventy-Six Trombones
guide vocal track from The Music Man
---
23. Sincere (Bonus Vocal Track)
guide vocal track from The Music Man
---
24. The Sadder But Wiser Girl
guide vocal track from The Music Man
---
25. Pick a Little, Talk a Little / Goodnight Ladies
guide vocal track from The Music Man
---
26. Marian the Librarian
guide vocal track from The Music Man
---
27. My White Knight
guide vocal track from The Music Man
---
28. The Wells Fargo Wagon
guide vocal track from The Music Man
---
29. It's You (Bonus Vocal Track)
guide vocal track from The Music Man
---
30. Shipoopi
guide vocal track from The Music Man
---
31. Lida Rose / Will I Ever Tell You
guide vocal track from The Music Man
---
32. Gary, Indiana
guide vocal track from The Music Man
---
33. Till There Was You
guide vocal track from The Music Man
---
34. Goodnight, My Someone and Seventy-Six Trombones (Reprise)
guide vocal track from The Music Man
---