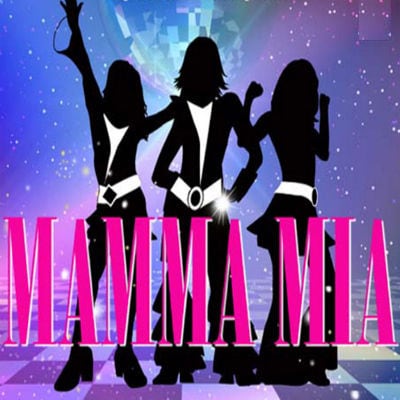 Mamma Mia
full album
Based on music by pop group ABBA, Mamma Mia is the longest-running jukebox musical in Broadway history. There are 46 tracks on this album: Tracks 1-23 contain the background tracks and guide vocals; tracks 24-46 contain the accompaniment tracks alone. This album is a re-recording in the original show key and show tempo.
Full Album
$29.95 or License for Theater ($600)
Songs Included
Note: Theater license is for the songs included below. No additional tracks are provided.
Track previews contain a watermark every few seconds. Purchased files do not contain any watermarking.


1. Honey Honey
guide vocal track from Mamma Mia
---
2. Money, Money, Money
guide vocal track from Mamma Mia
---
3. Thank You for the Music
guide vocal track from Mamma Mia
---
4. Mamma Mia
guide vocal track from Mamma Mia
---
5. Chiquitita
guide vocal track from Mamma Mia
---
6. Dancing Queen
guide vocal track from Mamma Mia
---
7. Lay All Your Love
guide vocal track from Mamma Mia
---
8. Super Trouper
guide vocal track from Mamma Mia
---
9. Gimme! Gimme! Gimme!
guide vocal track from Mamma Mia
---
10. The Name Game
guide vocal track from Mamma Mia
---
11. Voulez Vous
guide vocal track from Mamma Mia
---
12. Under Attack
guide vocal track from Mamma Mia
---
13. One Of Us
guide vocal track from Mamma Mia
---
14. S.O.S.
guide vocal track from Mamma Mia
---
15. Does Your Mother Know?
guide vocal track from Mamma Mia
---
16. Knowing Me, Knowing You
guide vocal track from Mamma Mia
---
17. Our Last Summer
guide vocal track from Mamma Mia
---
18. Slipping Through My Fingers
guide vocal track from Mamma Mia
---
19. The Winner Takes It All
guide vocal track from Mamma Mia
---
20. Take a Chance
guide vocal track from Mamma Mia
---
21. I Do, I Do, I Do
guide vocal track from Mamma Mia
---
22. I Have a Dream
guide vocal track from Mamma Mia
---
23. Waterloo
guide vocal track from Mamma Mia
---
24. Honey Honey
accompaniment track from Mamma Mia
---
25. Money, Money, Money
accompaniment track from Mamma Mia
---
26. Thank You for the Music
accompaniment track from Mamma Mia
---
27. Mamma Mia
accompaniment track from Mamma Mia
---
28. Chiquitita
accompaniment track from Mamma Mia
---
29. Dancing Queen
accompaniment track from Mamma Mia
---
30. Lay All Your Love
accompaniment track from Mamma Mia
---
31. Super Trouper
accompaniment track from Mamma Mia
---
32. Gimme! Gimme! Gimme!
accompaniment track from Mamma Mia
---
33. The Name Game
accompaniment track from Mamma Mia
---
34. Voulez Vous
accompaniment track from Mamma Mia
---
35. Under Attack
accompaniment track from Mamma Mia
---
36. One Of Us
accompaniment track from Mamma Mia
---
37. S.O.S.
accompaniment track from Mamma Mia
---
38. Does Your Mother Know?
accompaniment track from Mamma Mia
---
39. Knowing Me, Knowing You
accompaniment track from Mamma Mia
---
40. Our Last Summer
accompaniment track from Mamma Mia
---
41. Slipping Through My Fingers
accompaniment track from Mamma Mia
---
42. The Winner Takes It All
accompaniment track from Mamma Mia
---
43. Take a Chance
accompaniment track from Mamma Mia
---
44. I Do, I Do, I Do
accompaniment track from Mamma Mia
---
45. I Have a Dream
accompaniment track from Mamma Mia
---
46. Waterloo
accompaniment track from Mamma Mia
---