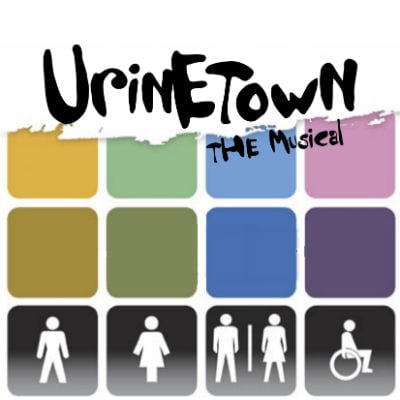 Urinetown
full album
Urinetown is a satirical show about love, revolution, greed and corruption. In a worn down town, a twenty year drought led to a ban on all private bathrooms and forcing even the poorest people to pay to use public amenities. This album features 32 tracks. Tracks 1-16 contain the background tracks and guide vocals; tracks 17-32 contain the accompaniment tracks alone. This album is a new recording in the original show keys and tempos.
Full Album
$29.95 or License for Theater ($600)
Songs Included
Note: Theater license is for the songs included below. No additional tracks are provided.
Track previews contain a watermark every few seconds. Purchased files do not contain any watermarking.


1. Urinetown
guide vocal track from Urinetown
---
2. It's a Privilege to Pee
guide vocal track from Urinetown
---
3. Mister Cladwell
guide vocal track from Urinetown
---
4. Cop Song
guide vocal track from Urinetown
---
5. Follow Your Heart
guide vocal track from Urinetown
---
6. Look at the Sky
guide vocal track from Urinetown
---
7. Don't Be the Bunny
guide vocal track from Urinetown
---
8. Act One Finale
guide vocal track from Urinetown
---
9. What is Urinetown
guide vocal track from Urinetown
---
10. Snuff That Girl
guide vocal track from Urinetown
---
11. Run, Freedom, Run
guide vocal track from Urinetown
---
12. Why Did I Listen to That Man
guide vocal track from Urinetown
---
13. Tell Her I Love Her
guide vocal track from Urinetown
---
14. We're Not Sorry
guide vocal track from Urinetown
---
15. We're Not Sorry (reprise)
guide vocal track from Urinetown
---
16. I See a River
guide vocal track from Urinetown
---
17. Urinetown
accompaniment track from Urinetown
---
18. It's a Privilege to Pee
accompaniment track from Urinetown
---
19. Mister Cladwell
accompaniment track from Urinetown
---
20. Cop Song
accompaniment track from Urinetown
---
21. Follow Your Heart
accompaniment track from Urinetown
---
22. Look at the Sky
accompaniment track from Urinetown
---
23. Don't Be the Bunny
accompaniment track from Urinetown
---
24. Act One Finale
accompaniment track from Urinetown
---
25. What is Urinetown
accompaniment track from Urinetown
---
26. Snuff That Girl
accompaniment track from Urinetown
---
27. Run, Freedom, Run
accompaniment track from Urinetown
---
28. Why Did I Listen to That Man
accompaniment track from Urinetown
---
29. Tell Her I Love Her
accompaniment track from Urinetown
---
30. We're Not Sorry
accompaniment track from Urinetown
---
31. We're Not Sorry (reprise)
accompaniment track from Urinetown
---
32. I See a River
accompaniment track from Urinetown
---