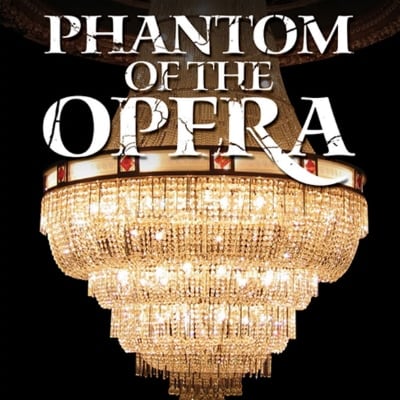 Phantom of the Opera
full album
Phantom of the Opera is one of the most successful musicals of all time, with music by Andrew Lloyd Weber. The show centers around a beautiful soprano who becomes the obsession of a mysterious and disfigured musical genius. This album from Stage Stars Records has 24 tracks: tracks 1 through 12 are complete tracks with vocals, and 13-24 are the fully orchestrated accompaniment backing tracks.
Full Album
$29.95 or License for Theater ($600)
Songs Included
Note: Theater license is for the songs included below. No additional tracks are provided.
Track previews contain a watermark every few seconds. Purchased files do not contain any watermarking.


1. Think of Me
guide vocal track from Phantom of the Opera
---
2. Angel of Music
guide vocal track from Phantom of the Opera
---
3. Little Lotte
guide vocal track from Phantom of the Opera
---
4. The Phantom of the Opera
guide vocal track from Phantom of the Opera
---
5. The Music of the Night
guide vocal track from Phantom of the Opera
---
6. Notes
guide vocal track from Phantom of the Opera
---
7. Prima Donna
guide vocal track from Phantom of the Opera
---
8. All I Ask of You
guide vocal track from Phantom of the Opera
---
9. All I Ask of You (Reprise)
guide vocal track from Phantom of the Opera
---
10. Masquerade
guide vocal track from Phantom of the Opera
---
11. Wishing You Were Somehow Here Again
guide vocal track from Phantom of the Opera
---
12. The Point of No Return
guide vocal track from Phantom of the Opera
---
13. Think of Me
accompaniment track from Phantom of the Opera
---
14. Angel of Music
accompaniment track from Phantom of the Opera
---
15. Little Lotte
accompaniment track from Phantom of the Opera
---
16. The Phantom of the Opera
accompaniment track from Phantom of the Opera
---
17. The Music of the Night
accompaniment track from Phantom of the Opera
---
18. Notes
accompaniment track from Phantom of the Opera
---
19. Prima Donna
accompaniment track from Phantom of the Opera
---
20. All I Ask of You
accompaniment track from Phantom of the Opera
---
21. All I Ask of You (Reprise)
accompaniment track from Phantom of the Opera
---
22. Masquerade
accompaniment track from Phantom of the Opera
---
23. Wishing You Were Somehow Here Again
accompaniment track from Phantom of the Opera
---
24. The Point of No Return
accompaniment track from Phantom of the Opera
---