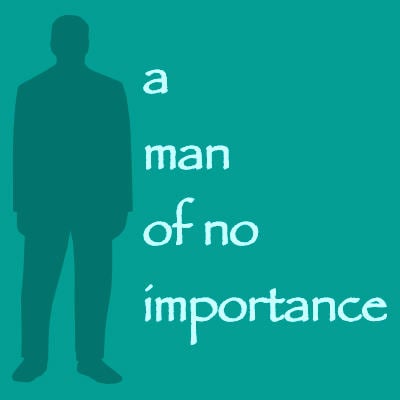 A Man of No Importance
full album
A Man of No Importance (Stephen Flaherty, Lynn Ahrens, Terrence McNally) tells the story of an amateur theatre group in Dublin and their leader, who is determined to stage a version of Salome at his church, despite the objections of church authorities. This album features 13 accompaniment tracks, and does not have guide vocals.
Full Album
$19.95 or License for Theater ($600)
Songs Included
Note: Theater license is for the songs included below. No additional tracks are provided.
Track previews contain a watermark every few seconds. Purchased files do not contain any watermarking.


1. A Man of No Importance
accompaniment track from A Man of No Importance
---
2. The Burden of Life
accompaniment track from A Man of No Importance
---
3. Going Up
accompaniment track from A Man of No Importance
---
4. Princess
accompaniment track from A Man of No Importance
---
5. The Streets of Dublin
accompaniment track from A Man of No Importance
---
6. Books
accompaniment track from A Man of No Importance
---
7. Man in the Mirror
accompaniment track from A Man of No Importance
---
8. Love Who You Love
accompaniment track from A Man of No Importance
---
9. Our Father / Confessions
accompaniment track from A Man of No Importance
---
10. Art
accompaniment track from A Man of No Importance
---
11. Tell Me Why
accompaniment track from A Man of No Importance
---
12. Welcome to the World
accompaniment track from A Man of No Importance
---
13. Poem
accompaniment track from A Man of No Importance
---