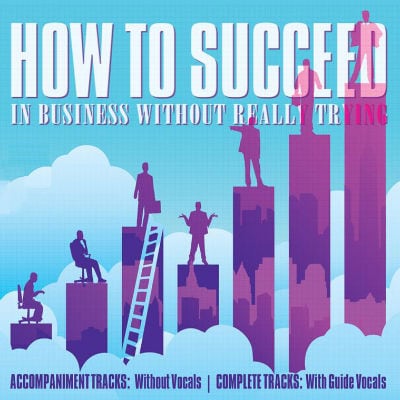 How To Succeed In Business Without Really Trying
full album
With music and lyrics by Frank Loesser, How To Succeed is the comedic story of an ambitious young mans rise through the ranks of corporate America. There are 28 tracks on this album: Tracks 1-14 contain the background tracks and guide vocals; tracks 15-28 contain the accompaniment tracks alone. This album is a re-recording in the original show key and show tempo.
Full Album
$29.95 or License for Theater ($600)
Songs Included
Note: Theater license is for the songs included below. No additional tracks are provided.
Track previews contain a watermark every few seconds. Purchased files do not contain any watermarking.


1. How To Succeed In Business Without Really Trying
guide vocal track from How To Succeed In Business Without Really Trying
---
2. Happy To Keep His Dinner Warm
guide vocal track from How To Succeed In Business Without Really Trying
---
3. Coffee Break
guide vocal track from How To Succeed In Business Without Really Trying
---
4. The Company Way
guide vocal track from How To Succeed In Business Without Really Trying
---
5. A Secretary is Not a Toy
guide vocal track from How To Succeed In Business Without Really Trying
---
6. Been a Long Day
guide vocal track from How To Succeed In Business Without Really Trying
---
7. Grand Old Ivy
guide vocal track from How To Succeed In Business Without Really Trying
---
8. Paris Original
guide vocal track from How To Succeed In Business Without Really Trying
---
9. Rosemary
guide vocal track from How To Succeed In Business Without Really Trying
---
10. Finale Act One
guide vocal track from How To Succeed In Business Without Really Trying
---
11. Cinerella, Darling
guide vocal track from How To Succeed In Business Without Really Trying
---
12. Love From a Heart of Gold
guide vocal track from How To Succeed In Business Without Really Trying
---
13. I Believe In You
guide vocal track from How To Succeed In Business Without Really Trying
---
14. Brotherhood of Man
guide vocal track from How To Succeed In Business Without Really Trying
---
15. How To Succeed In Business Without Really Trying
accompaniment track from How To Succeed In Business Without Really Trying
---
16. Happy To Keep His Dinner Warm
accompaniment track from How To Succeed In Business Without Really Trying
---
17. Coffee Break
accompaniment track from How To Succeed In Business Without Really Trying
---
18. The Company Way
accompaniment track from How To Succeed In Business Without Really Trying
---
19. A Secretary is Not a Toy
accompaniment track from How To Succeed In Business Without Really Trying
---
20. Been a Long Day
accompaniment track from How To Succeed In Business Without Really Trying
---
21. Grand Old Ivy
accompaniment track from How To Succeed In Business Without Really Trying
---
22. Paris Original
accompaniment track from How To Succeed In Business Without Really Trying
---
23. Rosemary
accompaniment track from How To Succeed In Business Without Really Trying
---
24. Finale Act One
accompaniment track from How To Succeed In Business Without Really Trying
---
25. Cinerella, Darling
accompaniment track from How To Succeed In Business Without Really Trying
---
26. Love From a Heart of Gold
accompaniment track from How To Succeed In Business Without Really Trying
---
27. I Believe In You
accompaniment track from How To Succeed In Business Without Really Trying
---
28. Brotherhood of Man
accompaniment track from How To Succeed In Business Without Really Trying
---