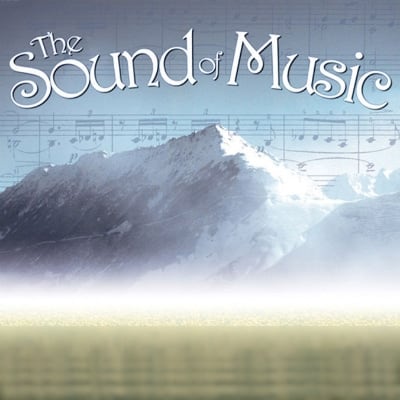 The Sound of Music
full album
The Sound of Music is a standard in the musical theater repertory, with music and lyrics by Rodgers and Hammerstein, in which a former nun teaches a family of the wonders of life and the joy of music. There are 32 tracks on this album: Tracks 1-16 contain the background tracks and guide vocals; tracks 17-32 contain the accompaniment tracks alone.
Full Album
$29.95 or License for Theater ($600)
Songs Included
Note: Theater license is for the songs included below. No additional tracks are provided.
Track previews contain a watermark every few seconds. Purchased files do not contain any watermarking.


1. Preludium
guide vocal track from The Sound of Music
---
2. The Sound of Music
guide vocal track from The Sound of Music
---
3. Maria
guide vocal track from The Sound of Music
---
4. My Favorite Things
guide vocal track from The Sound of Music
---
5. I Have Confidence
guide vocal track from The Sound of Music
---
6. Do-Re-Mi
guide vocal track from The Sound of Music
---
7. Sixteen Going on Seventeen
guide vocal track from The Sound of Music
---
8. The Lonely Goatherd
guide vocal track from The Sound of Music
---
9. How Can Love Survive
guide vocal track from The Sound of Music
---
10. The Sound of Music (Reprise)
guide vocal track from The Sound of Music
---
11. So Long, Farewell
guide vocal track from The Sound of Music
---
12. Climb Ev'ry Mountain
guide vocal track from The Sound of Music
---
13. No Way To Stop It
guide vocal track from The Sound of Music
---
14. Something Good
guide vocal track from The Sound of Music
---
15. An Ordinary Couple
guide vocal track from The Sound of Music
---
16. Edelweiss
guide vocal track from The Sound of Music
---
17. Preludium
accompaniment track from The Sound of Music
---
18. The Sound of Music
accompaniment track from The Sound of Music
---
19. Maria
accompaniment track from The Sound of Music
---
20. My Favorite Things
accompaniment track from The Sound of Music
---
21. I Have Confidence
accompaniment track from The Sound of Music
---
22. Do-Re-Mi
accompaniment track from The Sound of Music
---
23. Sixteen Going on Seventeen
accompaniment track from The Sound of Music
---
24. The Lonely Goatherd
accompaniment track from The Sound of Music
---
25. How Can Love Survive
accompaniment track from The Sound of Music
---
26. The Sound of Music (Reprise)
accompaniment track from The Sound of Music
---
27. So Long, Farewell
accompaniment track from The Sound of Music
---
28. Climb Ev'ry Mountain
accompaniment track from The Sound of Music
---
29. No Way To Stop It
accompaniment track from The Sound of Music
---
30. Something Good
accompaniment track from The Sound of Music
---
31. An Ordinary Couple
accompaniment track from The Sound of Music
---
32. Edelweiss
accompaniment track from The Sound of Music
---