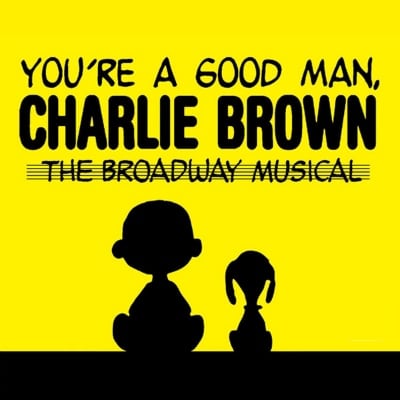 You're A Good Man Charlie Brown
full album
Youre a Good Man Charlie Brown is based on the characters from the Charles M. Schulz comic strip Peanuts, first appearing on Broadway in 1999. There are 28 tracks on this album: Tracks 1-14 contain the background tracks and guide vocals; tracks 15-28 contain the accompaniment tracks alone.
Full Album
$29.95 or License for Theater ($600)
Songs Included
Note: Theater license is for the songs included below. No additional tracks are provided.
Track previews contain a watermark every few seconds. Purchased files do not contain any watermarking.


1. You're A Good Man Charlie Brown
guide vocal track from You're a Good Man Charlie Brown
---
2. Schroeder
guide vocal track from You're a Good Man Charlie Brown
---
3. Snoopy
guide vocal track from You're a Good Man Charlie Brown
---
4. My Blanket and Me
guide vocal track from You're a Good Man Charlie Brown
---
5. The Kite
guide vocal track from You're a Good Man Charlie Brown
---
6. The Doctor Is In
guide vocal track from You're a Good Man Charlie Brown
---
7. Beethoven Day
guide vocal track from You're a Good Man Charlie Brown
---
8. The Book Report
guide vocal track from You're a Good Man Charlie Brown
---
9. My New Philosophy
guide vocal track from You're a Good Man Charlie Brown
---
10. The Baseball Game (T-E-A-M)
guide vocal track from You're a Good Man Charlie Brown
---
11. Glee Club Rehearsal
guide vocal track from You're a Good Man Charlie Brown
---
12. Little Known Facts
guide vocal track from You're a Good Man Charlie Brown
---
13. Suppertime
guide vocal track from You're a Good Man Charlie Brown
---
14. Happiness
guide vocal track from You're a Good Man Charlie Brown
---
15. You're A Good Man Charlie Brown
accompaniment track from You're a Good Man Charlie Brown
---
16. Schroeder
accompaniment track from You're a Good Man Charlie Brown
---
17. Snoopy
accompaniment track from You're a Good Man Charlie Brown
---
18. My Blanket and Me
accompaniment track from You're a Good Man Charlie Brown
---
19. The Kite
accompaniment track from You're a Good Man Charlie Brown
---
20. The Doctor Is In
accompaniment track from You're a Good Man Charlie Brown
---
21. Beethoven Day
accompaniment track from You're a Good Man Charlie Brown
---
22. The Book Report
accompaniment track from You're a Good Man Charlie Brown
---
23. My New Philosophy
accompaniment track from You're a Good Man Charlie Brown
---
24. The Baseball Game (T-E-A-M)
accompaniment track from You're a Good Man Charlie Brown
---
25. Glee Club Rehearsal
accompaniment track from You're a Good Man Charlie Brown
---
26. Little Known Facts
accompaniment track from You're a Good Man Charlie Brown
---
27. Suppertime
accompaniment track from You're a Good Man Charlie Brown
---
28. Happiness
accompaniment track from You're a Good Man Charlie Brown
---