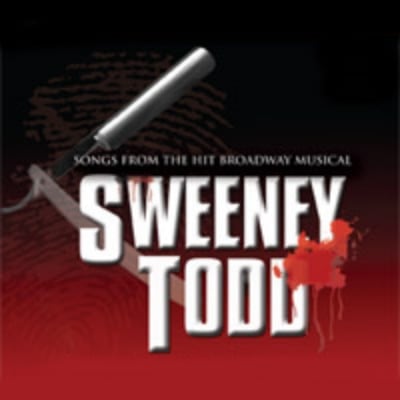 Sweeney Todd
full album
Winning eight Tony Awards in 1979, including Best Musical and Best Score, Sweeney Todd returned to Broadway in 2006 and became a Tim Burton film in 2007. This recording of songs from Sweeney Todd features 16 of Stephen Sondheims compositions. There are 32 tracks on this album: Tracks 1-16 contain the background tracks and guide vocals; tracks 17-32 contain the accompaniment tracks alone. This album is a re-recording in the original show key and show tempo.
Full Album
$29.95 or License for Theater ($600)
Songs Included
Note: Theater license is for the songs included below. No additional tracks are provided.
Track previews contain a watermark every few seconds. Purchased files do not contain any watermarking.


1. The Ballad of Sweeney Todd
guide vocal track from Sweeney Todd
---
2. The Worst Pies in London
guide vocal track from Sweeney Todd
---
3. Poor Thing
guide vocal track from Sweeney Todd
---
4. My Friends
guide vocal track from Sweeney Todd
---
5. Green Finch and Linnet Bird
guide vocal track from Sweeney Todd
---
6. Johanna (Anthony)
guide vocal track from Sweeney Todd
---
7. Wait
guide vocal track from Sweeney Todd
---
8. Kiss Me / Ladies in their Sensitivities / Kiss Me (Part 2)
guide vocal track from Sweeney Todd
---
9. Pretty Women
guide vocal track from Sweeney Todd
---
10. Epiphany
guide vocal track from Sweeney Todd
---
11. A Little Priest
guide vocal track from Sweeney Todd
---
12. God, That's Good!
guide vocal track from Sweeney Todd
---
13. Johanna (Todd)
guide vocal track from Sweeney Todd
---
14. By The Sea
guide vocal track from Sweeney Todd
---
15. Not While I'm Around
guide vocal track from Sweeney Todd
---
16. The Ballad of Sweeney Todd (Reprise)
guide vocal track from Sweeney Todd
---
17. The Ballad of Sweeney Todd
accompaniment track from Sweeney Todd
---
18. The Worst Pies in London
accompaniment track from Sweeney Todd
---
19. Poor Thing
accompaniment track from Sweeney Todd
---
20. My Friends
accompaniment track from Sweeney Todd
---
21. Green Finch and Linnet Bird
accompaniment track from Sweeney Todd
---
22. Johanna (Anthony)
accompaniment track from Sweeney Todd
---
23. Wait
accompaniment track from Sweeney Todd
---
24. Kiss Me / Ladies in their Sensitivities / Kiss Me (Part 2)
accompaniment track from Sweeney Todd
---
25. Pretty Women
accompaniment track from Sweeney Todd
---
26. Epiphany
accompaniment track from Sweeney Todd
---
27. A Little Priest
accompaniment track from Sweeney Todd
---
28. God, That's Good!
accompaniment track from Sweeney Todd
---
29. Johanna (Todd)
accompaniment track from Sweeney Todd
---
30. By The Sea
accompaniment track from Sweeney Todd
---
31. Not While I'm Around
accompaniment track from Sweeney Todd
---
32. The Ballad of Sweeney Todd (Reprise)
accompaniment track from Sweeney Todd
---