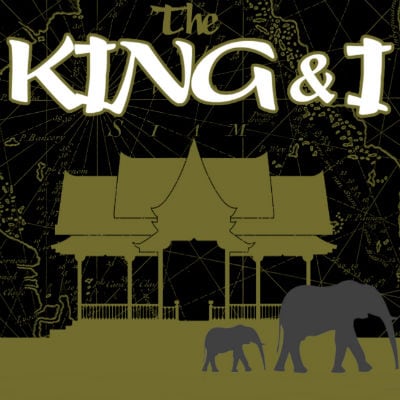 The King and I
full album
The King and I is a classic musical theatre masterpiece by Rodgers and Hammerstein, recounting the experiences of a British schoolteacher who is brought to Siam to help modernize the country. This album features 22 tracks. Tracks 1-11 contain the background tracks and guide vocals; tracks 12-22 contain the accompaniment tracks alone. This album is a re-recording in the original show key and show tempo.
Full Album
$29.95 or License for Theater ($600)
Songs Included
Note: Theater license is for the songs included below. No additional tracks are provided.
Track previews contain a watermark every few seconds. Purchased files do not contain any watermarking.


1. I Whistle A Happy Tune
guide vocal track from The King and I
---
2. My Lord and Master
guide vocal track from The King and I
---
3. Shall I Tell You What I Think of You?
guide vocal track from The King and I
---
4. I Have Dreamed
guide vocal track from The King and I
---
5. Western People Funny
guide vocal track from The King and I
---
6. Something Wonderful
guide vocal track from The King and I
---
7. A Puzzlement
guide vocal track from The King and I
---
8. We Kiss In a Shadow
guide vocal track from The King and I
---
9. Hello, Young Lovers
guide vocal track from The King and I
---
10. Getting To Know You
guide vocal track from The King and I
---
11. Shall We Dance?
guide vocal track from The King and I
---
12. I Whistle A Happy Tune
accompaniment track from The King and I
---
13. My Lord and Master
accompaniment track from The King and I
---
14. Shall I Tell You What I Think of You?
accompaniment track from The King and I
---
15. I Have Dreamed
accompaniment track from The King and I
---
16. Western People Funny
accompaniment track from The King and I
---
17. Something Wonderful
accompaniment track from The King and I
---
18. A Puzzlement
accompaniment track from The King and I
---
19. We Kiss In a Shadow
accompaniment track from The King and I
---
20. Hello, Young Lovers
accompaniment track from The King and I
---
21. Getting To Know You
accompaniment track from The King and I
---
22. Shall We Dance?
accompaniment track from The King and I
---