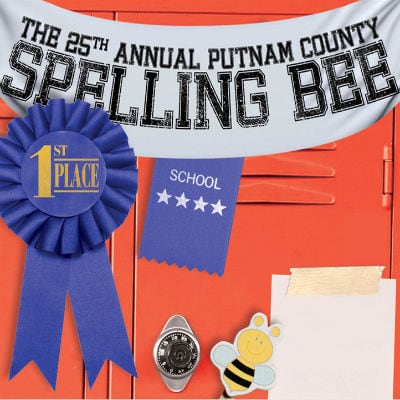 The 25th Annual Putnam County Spelling Bee
full album
Spelling Bee began off-Broadway and moved to Broadway following critical acclaim in 2005. With music and lyrics by William Finn, the show follows six quirky adolescents through their experience in a fictional spelling bee. This album has 28 tracks: tracks 1 through 14 are complete tracks with vocals, and 15-28 are the accompaniment backing tracks, all in the original show keys and tempos.
Full Album
$29.95 or License for Theater ($600)
Songs Included
Note: Theater license is for the songs included below. No additional tracks are provided.
Track previews contain a watermark every few seconds. Purchased files do not contain any watermarking.


1. The 25th Annual Putnam County Spelling Bee
guide vocal track from The 25th Annual Putnam County Spelling Bee
---
2. The Rules / My Favorite Moment of the Bee
guide vocal track from The 25th Annual Putnam County Spelling Bee
---
3. My Friend, the Dictionary
guide vocal track from The 25th Annual Putnam County Spelling Bee
---
4. Goodbye
guide vocal track from The 25th Annual Putnam County Spelling Bee
---
5. Pandemonium
guide vocal track from The 25th Annual Putnam County Spelling Bee
---
6. I'm Not That Smart
guide vocal track from The 25th Annual Putnam County Spelling Bee
---
7. Magic Foot
guide vocal track from The 25th Annual Putnam County Spelling Bee
---
8. Why We Like Spelling
guide vocal track from The 25th Annual Putnam County Spelling Bee
---
9. Prayer of the Comfort Counselor
guide vocal track from The 25th Annual Putnam County Spelling Bee
---
10. My Unfortunate Erection (Chip's Lament)
guide vocal track from The 25th Annual Putnam County Spelling Bee
---
11. Woe Is Me
guide vocal track from The 25th Annual Putnam County Spelling Bee
---
12. I Speak Six Languages
guide vocal track from The 25th Annual Putnam County Spelling Bee
---
13. The I Love You Song
guide vocal track from The 25th Annual Putnam County Spelling Bee
---
14. My Favorite Moment of the Bee 3 / Second
guide vocal track from The 25th Annual Putnam County Spelling Bee
---
15. The 25th Annual Putnam County Spelling Bee
accompaniment track from The 25th Annual Putnam County Spelling Bee
---
16. The Rules / My Favorite Moment of the Bee
accompaniment track from The 25th Annual Putnam County Spelling Bee
---
17. My Friend, the Dictionary
accompaniment track from The 25th Annual Putnam County Spelling Bee
---
18. Goodbye
accompaniment track from The 25th Annual Putnam County Spelling Bee
---
19. Pandemonium
accompaniment track from The 25th Annual Putnam County Spelling Bee
---
20. I'm Not That Smart
accompaniment track from The 25th Annual Putnam County Spelling Bee
---
21. Magic Foot
accompaniment track from The 25th Annual Putnam County Spelling Bee
---
22. Why We Like Spelling
accompaniment track from The 25th Annual Putnam County Spelling Bee
---
23. Prayer of the Comfort Counselor
accompaniment track from The 25th Annual Putnam County Spelling Bee
---
24. My Unfortunate Erection (Chip's Lament)
accompaniment track from The 25th Annual Putnam County Spelling Bee
---
25. Woe Is Me
accompaniment track from The 25th Annual Putnam County Spelling Bee
---
26. I Speak Six Languages
accompaniment track from The 25th Annual Putnam County Spelling Bee
---
27. The I Love You Song
accompaniment track from The 25th Annual Putnam County Spelling Bee
---
28. My Favorite Moment of the Bee 3 / Second
accompaniment track from The 25th Annual Putnam County Spelling Bee
---