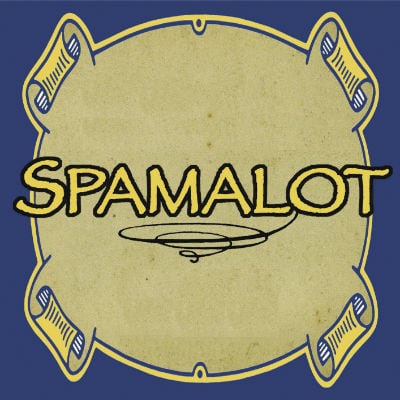 Spamalot
full album
Spamalot is the hysterical musical rendition of Monty Pythons famous comedy films. This album features 26 tracks. Tracks 1-13 contain the background tracks and guide vocals; tracks 13-22 contain the accompaniment tracks alone. This album is a re-recording in the original show key and show tempo.
Full Album
$29.95 or License for Theater ($600)
Songs Included
Note: Theater license is for the songs included below. No additional tracks are provided.
Track previews contain a watermark every few seconds. Purchased files do not contain any watermarking.


1. Fisch Schlapping Dance
guide vocal track from Spamalot
---
2. I Am Not Dead Yet
guide vocal track from Spamalot
---
3. Come With Me
guide vocal track from Spamalot
---
4. The Song That Goes Like This
guide vocal track from Spamalot
---
5. All for One
guide vocal track from Spamalot
---
6. Knights of the Round Table
guide vocal track from Spamalot
---
7. Find Your Grail
guide vocal track from Spamalot
---
8. Always Look on the Bright Side of Life
guide vocal track from Spamalot
---
9. Brave Sir Robin
guide vocal track from Spamalot
---
10. You Won't Succeed On Broadway
guide vocal track from Spamalot
---
11. Whatever Happened to My Part?
guide vocal track from Spamalot
---
12. His Name Is Lancelot
guide vocal track from Spamalot
---
13. I'm All Alone
guide vocal track from Spamalot
---
14. Fisch Schlapping Dance
accompaniment track from Spamalot
---
15. I Am Not Dead Yet
accompaniment track from Spamalot
---
16. Come With Me
accompaniment track from Spamalot
---
17. The Song That Goes Like This
accompaniment track from Spamalot
---
18. All for One
accompaniment track from Spamalot
---
19. Knights of the Round Table
accompaniment track from Spamalot
---
20. Find Your Grail
accompaniment track from Spamalot
---
21. Always Look on the Bright Side of Life
accompaniment track from Spamalot
---
22. Brave Sir Robin
accompaniment track from Spamalot
---
23. You Won't Succeed On Broadway
accompaniment track from Spamalot
---
24. Whatever Happened to My Part?
accompaniment track from Spamalot
---
25. His Name Is Lancelot
accompaniment track from Spamalot
---
26. I'm All Alone
accompaniment track from Spamalot
---