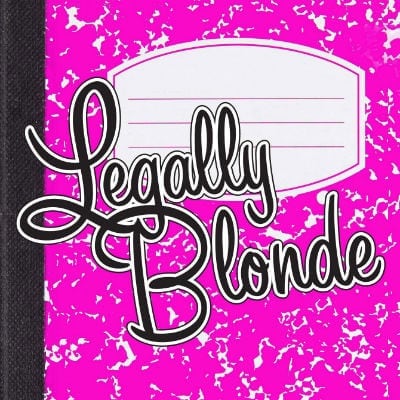 Legally Blonde
full album
Legally Blond is a romantic comedy movie-turned-musical that tells the story of the coming of age of a young woman at Harvard Law. With a modern pop score, this show features a number of songs perfect for female and male singers alike. This album features 32 tracks. Tracks 1-16 contain the background tracks and guide vocals; tracks 17-32 contain the accompaniment tracks alone. This album is a re-recording in the original show key and show tempo.
Full Album
$29.95 or License for Theater ($600)
Songs Included
Note: Theater license is for the songs included below. No additional tracks are provided.
Track previews contain a watermark every few seconds. Purchased files do not contain any watermarking.


1. Omigod You Guys
guide vocal track from Legally Blonde
---
2. Serious
guide vocal track from Legally Blonde
---
3. What You Want
guide vocal track from Legally Blonde
---
4. Harvard Variations
guide vocal track from Legally Blonde
---
5. Blood in the Water
guide vocal track from Legally Blonde
---
6. Positive
guide vocal track from Legally Blonde
---
7. Ireland
guide vocal track from Legally Blonde
---
8. Chip On My Shoulder
guide vocal track from Legally Blonde
---
9. So Much Better
guide vocal track from Legally Blonde
---
10. Whipped Into Shape
guide vocal track from Legally Blonde
---
11. Take It Like A Man
guide vocal track from Legally Blonde
---
12. Bend and Snap
guide vocal track from Legally Blonde
---
13. There! Right There!
guide vocal track from Legally Blonde
---
14. Legally Blonde
guide vocal track from Legally Blonde
---
15. Legally Blonde Remix
guide vocal track from Legally Blonde
---
16. Find My Way
guide vocal track from Legally Blonde
---
17. Omigod You Guys
accompaniment track from Legally Blonde
---
18. Serious
accompaniment track from Legally Blonde
---
19. What You Want
accompaniment track from Legally Blonde
---
20. Harvard Variations
accompaniment track from Legally Blonde
---
21. Blood in the Water
accompaniment track from Legally Blonde
---
22. Positive
accompaniment track from Legally Blonde
---
23. Ireland
accompaniment track from Legally Blonde
---
24. Chip On My Shoulder
accompaniment track from Legally Blonde
---
25. So Much Better
accompaniment track from Legally Blonde
---
26. Whipped Into Shape
accompaniment track from Legally Blonde
---
27. Take It Like A Man
accompaniment track from Legally Blonde
---
28. Bend and Snap
accompaniment track from Legally Blonde
---
29. There! Right There!
accompaniment track from Legally Blonde
---
30. Legally Blonde
accompaniment track from Legally Blonde
---
31. Legally Blonde Remix
accompaniment track from Legally Blonde
---
32. Find My Way
accompaniment track from Legally Blonde
---