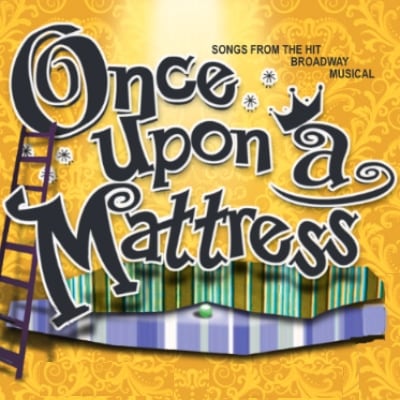 Once Upon A Mattress
full album
Once Upon A Mattress is a comical retelling of the Princess and the Pea. Great for school musicals, this show is a favorite around the globe. This album has 34 tracks; 1-18 with guide vocals and 19-34 with accompaniment only.
Full Album
$29.95 or License for Theater ($600)
Songs Included
Note: Theater license is for the songs included below. No additional tracks are provided.
Track previews contain a watermark every few seconds. Purchased files do not contain any watermarking.


1. Prelude / Many Moons Ago
guide vocal track from Once Upon a Mattress
---
2. An Opening for a Princess
guide vocal track from Once Upon a Mattress
---
3. In a Little While
guide vocal track from Once Upon a Mattress
---
4. Shy
guide vocal track from Once Upon a Mattress
---
5. The Minstrel, The Jester, and I
guide vocal track from Once Upon a Mattress
---
6. Sensitivity
guide vocal track from Once Upon a Mattress
---
7. The Swamps of Home
guide vocal track from Once Upon a Mattress
---
8. Normandy
guide vocal track from Once Upon a Mattress
---
9. Song of Love
guide vocal track from Once Upon a Mattress
---
10. Quiet
guide vocal track from Once Upon a Mattress
---
11. Goodnight, Sweet Princess
guide vocal track from Once Upon a Mattress
---
12. Happily Ever After
guide vocal track from Once Upon a Mattress
---
13. Man To Man
guide vocal track from Once Upon a Mattress
---
14. Very Soft Shoes
guide vocal track from Once Upon a Mattress
---
15. Yesterday I Loved You
guide vocal track from Once Upon a Mattress
---
16. Nightingale Lullaby
guide vocal track from Once Upon a Mattress
---
17. Finale
guide vocal track from Once Upon a Mattress
---
18. Prelude / Many Moons Ago
accompaniment track from Once Upon a Mattress
---
19. An Opening for a Princess
accompaniment track from Once Upon a Mattress
---
20. In a Little While
accompaniment track from Once Upon a Mattress
---
21. Shy
accompaniment track from Once Upon a Mattress
---
22. The Minstrel, The Jester, and I
accompaniment track from Once Upon a Mattress
---
23. Sensitivity
accompaniment track from Once Upon a Mattress
---
24. The Swamps of Home
accompaniment track from Once Upon a Mattress
---
25. Normandy
accompaniment track from Once Upon a Mattress
---
26. Song of Love
accompaniment track from Once Upon a Mattress
---
27. Quiet
accompaniment track from Once Upon a Mattress
---
28. Goodnight, Sweet Princess
accompaniment track from Once Upon a Mattress
---
29. Happily Ever After
accompaniment track from Once Upon a Mattress
---
30. Man To Man
accompaniment track from Once Upon a Mattress
---
31. Very Soft Shoes
accompaniment track from Once Upon a Mattress
---
32. Yesterday I Loved You
accompaniment track from Once Upon a Mattress
---
33. Nightingale Lullaby
accompaniment track from Once Upon a Mattress
---
34. Finale
accompaniment track from Once Upon a Mattress
---