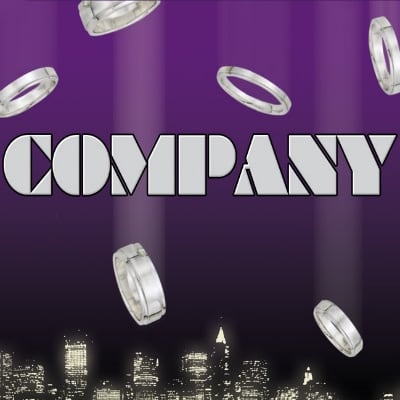 Company
full album
Accompaniment backing tracks and guide vocal demonstrations of selections from the musical Company. Download instrumental accomaniments and backing music for musical theater.
Full Album
$29.95 or License for Theater ($600)
Songs Included
Note: Theater license is for the songs included below. No additional tracks are provided.
Track previews contain a watermark every few seconds. Purchased files do not contain any watermarking.


1. Overture
guide vocal track from Company
---
2. Company
guide vocal track from Company
---
3. The Little Things You Do Together
guide vocal track from Company
---
4. Sorry-Grateful
guide vocal track from Company
---
5. You Could Drive a Person Crazy
guide vocal track from Company
---
6. Have I Got a Girl for You
guide vocal track from Company
---
7. Someone Is Waiting
guide vocal track from Company
---
8. Another Hundred People
guide vocal track from Company
---
9. Getting Married Today
guide vocal track from Company
---
10. Marry Me a Little
guide vocal track from Company
---
11. Side by Side by Side
guide vocal track from Company
---
12. Poor Baby
guide vocal track from Company
---
13. Barcelona
guide vocal track from Company
---
14. The Ladies Who Lunch
guide vocal track from Company
---
15. Being Alive
guide vocal track from Company
---
16. Overture
accompaniment track from Company
---
17. Company
accompaniment track from Company
---
18. The Little Things You Do Together
accompaniment track from Company
---
19. Sorry-Grateful
accompaniment track from Company
---
20. You Could Drive a Person Crazy
accompaniment track from Company
---
21. Have I Got a Girl for You
accompaniment track from Company
---
22. Someone Is Waiting
accompaniment track from Company
---
23. Another Hundred People
accompaniment track from Company
---
24. Getting Married Today
accompaniment track from Company
---
25. Marry Me a Little
accompaniment track from Company
---
26. Side by Side by Side
accompaniment track from Company
---
27. Poor Baby
accompaniment track from Company
---
28. Barcelona
accompaniment track from Company
---
29. The Ladies Who Lunch
accompaniment track from Company
---
30. Being Alive
accompaniment track from Company
---